Now that I've left Denver I thought I'd reflect on some of what I noticed there, both big and small.
Let me get the two big ones out of the way first:
Yes, the rumors are true: Denver is a very hipster city. Food halls, tiny concert venues, third wave coffee roasters, fancy men's barber shops, small-batch breweries — it's all there.
The elevation wasn't as noticeable as I thought it would be. I walked a lot more than usual while I was there too; perhaps it helps that Denver's a relatively flat city?
From the top of the capitol building I spotted a striking neo-Gothic church. I asked the tour guide about it and he said it's called the Cathedral Basilica of the Immaculate Conception.
I tried visiting a couple times to look at the interior but on both occasions the door was locked. The sign said it was open for other activities both earlier and later that same day — is it just me or is it a little weird for such a grand looking church to lock the doors during the middle of the day?
While perusing a Whole Foods for breakfast options I came across the beer aisle, suddenly craving an apple cider. I couldn't find any, so I asked an employee where I could find the ciders. She sighed and explained that in Colorado, grocery stores couldn't even sell beer until very recently, and they still couldn't sell wine — and for whatever reason cider is considered wine. Apparently you have to go to a liquor store to buy any alcoholic beverage other than beer.
Keep in mind, this is a state where marijuana is legal.
Anyway the next day while taking photos of street art in RiNo I noticed a big warehouse-looking building with a sign that said C Squared Ciders. I went in, walked upstairs, and found myself in their tasting room, overlooking their cider production facilities. I ordered a cider flight, as seen in the above photo. That really hit the spot.
The offices of Transamerica in Denver are in a boring looking office tower, but at the top there's a sign with their Transamerica Pyramid logo. It seems funny to me for a company to be so closely associated with a building that they'd attach an image of it to other, much less iconic buildings.
Oh and speaking of buildings that reminded me of San Francisco, Coors Field — home of the Rockies baseball team — looks awfully similar to AT&T Park Oracle Park. As it happens, Coors Field was built only a few years earlier and both share the same architects.
The design aesthetics have a reason for looking so similar. The brick facades of both ballparks reflect the prevailing architecture lining both Downtown Denver and San Francisco's SOMA, where old brick shipping warehouses have been repurposed for new uses.
Although Washington Park is not a very interesting neighborhood in general, its namesake park features two lakes, a boathouse, a large picnic area, and a huge path around the park that's only for biking, walking, and jogging.
A few blocks from the park is "Old South Gaylord Street," where one block of an otherwise residential street is lined with restaurants and boutiques. Unfortunately for me I just wanted coffee and the one thing unexpectedly missing from Old South Gaylord Street is a cafe.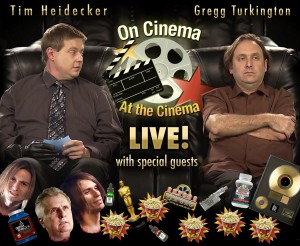 Although I'd already seen On Cinema Live a few months ago in San Francisco, I had no doubt I wanted to see their live show a second time.
I was pretty bummed when I was halfway through planning this trip and realized I'd have to miss their live show in Chicago — so when they announced a Denver show that lined up with my plans perfectly, I jumped at the chance. Turns out I wasn't the only one interested; for a live show based on a web series that's barely promoted at all, the place was packed.

That wraps up Denver; next time I'll begin posting on my adventures in Salt Lake City.