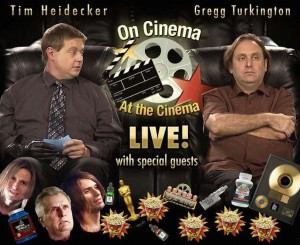 Last night I went to a show I've meant to see for ages: On Cinema Live. This particular event was at the Palace of Fine Arts and is the first of On Cinema's upcoming live tour — for that reason I'm going to try my best to avoid major spoilers of the live show here. That said I'm dropping many spoilers of On Cinema overall so stop now if you'd like to go back and watch it all first.

What is On Cinema? Well… it's tough to explain. At the core it's a dark, slow burn comedy disguised as a Siskel and Ebert style movie review show. The two main characters are:
Tim Heidecker (best known as half of the Tim & Eric comedy duo) plays a version of himself as a blowhard conservative with no attention span. He's a big fan of Trump and also alternative medicine — but only because it's not covered by Obamacare. Tim rarely watches the movies he reviews, and often struggles to pronounce the names of well-known actors.
Gregg Turkington (best known as off-the-rails stand up comic "Neil Hamburger") plays a version of himself devoted to movie expertise. In practice he cares more about quantity than quality such as when he set out to watch 501 movies in 501 days. His pride and joy is his extensive collection of VHS tapes. Unfortunately for Gregg, Tim regularly destroys these VHS tapes; often accidentally. Gregg is simply billed as a "guest" rather than a co-host due to Tim's out of control ego.
The best way to watch On Cinema is to start with Season 1 and work your way up to the latest episode. If you don't want to invest the time just yet here's a brief recap.

The story so far
First go watch this YouTube video. It quickly sums up the first eight seasons better than I could.
Since that video was put together a few things happened in the On Cinema universe.
Tim was put on trial when 20 teenagers were killed at his "Electric Sun Desert Music Festival" after using Dr. San's vape system (Dr. San himself committed suicide before the trial.) Once in court Tim decided to represent himself. Tim wasted most of his time settling scores including bringing Star Trek writer Nicholas Meyer to the stand in order to best Gregg in a long standing debate about which Star Trek movie takes place in San Francisco. Eventually Tim "won" the trial due to a hung jury. Gregg didn't buy it and accused Tim of bribing a juror.
Frequent collaborator Mark Proksch nearly died during the show's most recent Oscar Special, and has been on life support ever since.
In the 10th season of On Cinema, Tim went full Alex Jones with a sponsorship from Rio-Jenesis, a questionable company promoting germ removal products. Partway through the season the show switched to "virtual reality" which gave viewers a 360 degree view. Clever viewers discovered if you flip around in Gregg's filthy closet you can spot Mark Proksch in a vegetative state on a hospital bed. The season ended when the family of one of the the victims seized Tim's assets including his sponsorship income. To add insult to injury, the new owners handed control of the show to Gregg. Tim lost it, destroying the show's set in a fit of rage and angrily announced his run for district attorney of San Bernardino County as vengeance against the current DA who nearly bested him in court.
Following Gregg's cameo in the first Ant-Man movie, Tim had a cameo in the sequel Ant-Man and the Wasp.

The live show
Some first impressions: the place was packed. It hadn't technically sold out but there weren't many empty seats. I had no idea On Cinema had so many fans in the Bay Area.
In typical sketch format the show alternates between live performances and prerecorded videos to allow time for costume and stage changes.
My general observations:
Aside from Tim and Gregg, Joe Estevez appears on stage along with Tim's Dekkar band mates Axiom and Manuel. Other characters appear on video.
Much to Gregg's annoyance Tim insists on several music performances. Dekkar performed their "hits" along with two covers. Tim's act as an incompetent rock star faking his way to success seems even funnier after someone tried to do this in real life.
The merchandise stand integrated into the show. Even if you don't want a t-shirt or a hat it's worth stopping by to participate.
The pacing was absolutely perfect. A lot of the show is improvised and some of the audience's biggest laughs were Tim's repeated failures to stifle his own laughter at Gregg's potshots.
Some observations about On Cinema coming to San Francisco:
Predictably Tim and Gregg bickered about whether it was Star Trek II or Star Trek IV that takes place in San Francisco. I'll let you decide.
Tim joked about taking one audience member to North Beach for an Italian meal. Gregg said fans could find him tomorrow at the Sundance Kabuki.
When Joe referred to mayor London Breed as "he," Tim immediately stepped in to correct him.
Tim ended the show in character complaining about "San Francisco values."
In honor of Gregg's fascination with running times, the show ran about two hours and twenty minutes including an intermission.
Overall this is the funniest live show I've ever seen. Somehow the sheer absurdity of On Cinema is full throttle at a live show, yet unless you've watched the YouTube series and the companion show Decker there's a lot of material that may fly over your head.
The live show brought its tongue-in-cheek online bickering into the real world. On the internet fans typically either side with Tim (Timheads) or Gregg (Greggheads.) Hardcore fans in the audience ate this up, frequently shouting at the stage to support their favorite character or to scorn the other.

My recommendation: The live show is a perfect extension of this quirky series — fans will love it. If you're unfamiliar with it, each episode of On Cinema is only around ten minutes. You'll know if this is for you or not after watching a couple episodes.