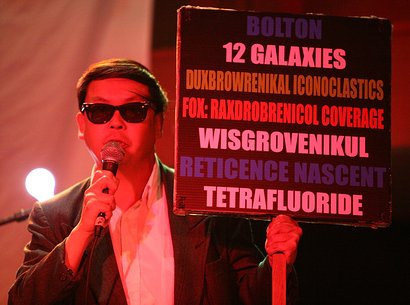 Tonight's episode of Doctor Who features a race, of sorts. Minor spoilers follow for the second episode of the new Jodie Whittaker-era Doctor Who.
Last week's episode ended with the Doctor and her three companions in a cliffhanger (space hanger?) situation. This week they're all rescued by the two remaining participants in "the last ever rally of the 12 Galaxies."
If you're a Bay Area local and the name "12 Galaxies" rings a bell, it's for one of two reasons. You're either thinking of a short-lived Mission District bar and music venue, or local eccentric Frank Chu (pictured above) who coined the phrase on his "protest" signs.
Coincidence? Probably. But it's enough to make a person ask if Frank Chu knows anything more about Time Lords from the planet Gallifrey.