Almost a year ago I reported that the team behind Garcon seemed to be quietly working on a new restaurant at the former site of Young's BBQ in the Mission. Normally restaurant openings involve some press releases and fanfare, but this one seemed to fly under the radar. Naturally, that made it all the more intriguing.
Now new details are slowly starting to emerge in public: namely, the name: "Bayou." New signage recently appeared above the space:
Here's where things start to get a little fuzzy though. A quick Google search revealed a link to Bayou's website, which is still incomplete. There's missing information, like the phone number being listed as "(415) XXX-XXXX."
Other signs that the website is incomplete include the fact that many links go nowhere, and the social media links direct you a brand design agency called The Imagists.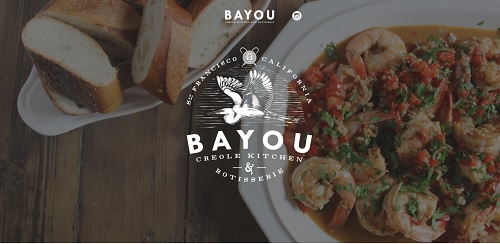 Sleuthing a bit further, The Imagists have a page on their online portfolio about Bayou, which includes this description:
A new multi-location concept, Bayou Creole Kitchen & Rotisserie proposes a casual offering of creole and cajun-inspired dishes to the lunch crowd of the Mission and Financial districts [sic] of San Francisco.
The second Financial District location isn't mentioned on Bayou's website, nor could I find any reference to it in the California liquor license database. Perhaps that's intended for the future or was just a bit of wishful thinking. As for the "lunch crowd of the Mission," that's not even a thing.
Regardless, the one item on their website that appears to be (mostly?) complete is the menu. As the name suggests it's focused on the cuisine of New Orleans. It features everything one might expect such as gumbo, fried green tomatoes with shrimp, rotisserie chicken, and po boys. Not much for vegetarians or vegans at the moment.
Perhaps the biggest bombshell on Bayou's website is bad news for fans of Garcon. Though he's still listed as the executive chef on Garcon's website, Arthur Wall's bio on Bayou's website indicates he's moving on:
Arthur Wall is the Executive Chef and proprietor of Bayou Restaurant in San Francisco. He previously spent six years serving as Executive Chef of Garçon restaurant in the Mission district, where he developed a strong, local following and connection to the community.
Obviously I can't vouch for any information on an unfinished website, but it's certainly unusual for news to leak like this in the hyper-scrutinized world of Bay Area dining.
I'll update if I hear more.