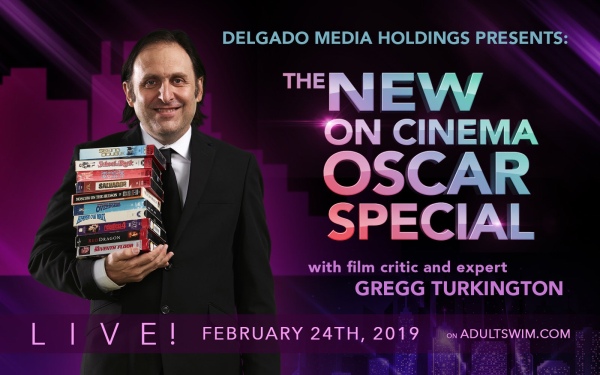 Last Sunday I stayed home to watch an exciting live event: the 2019 On Cinema Oscar Special (video available here). What, did you think I'd waste time on the "real" Academy Awards?
I mentioned On Cinema here before — to sum it up it's a tragic comedy about a pair of would-be movie critics, Tim and Gregg, and their many personality clashes. For a complete backstory of the On Cinema universe check out this article at Vulture.
Due to the outcome of a civil lawsuit Tim lost control of On Cinema last season. The Oscar Special was advertised with Gregg appearing as the movie expert and a new host by the name of Rafael Torres. How would this turn out? Could On Cinema possibly outdo itself again?
The short answer is yes. Here are the top six most outrageous moments in this year's On Cinema Oscar Special.
Warning: spoilers!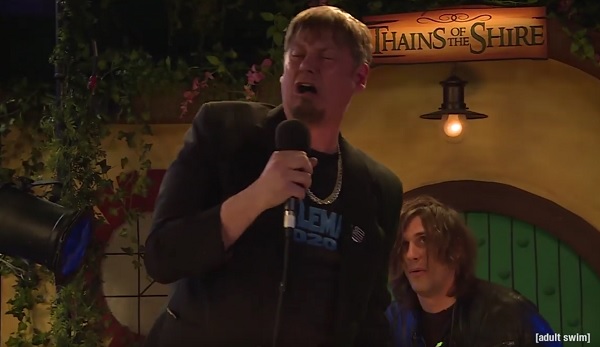 6. Dekkar's awful cover of "Bohemian Rhapsody"
Tim often interrupts On Cinema with his latest music, much to Gregg's chagrin. This time Tim's band Dekkar reunites to perform a cover of Queen's "Bohemian Rhapsody" which at the very least is on topic due to the Oscar nominations of a film of the same name. Unfortunately their performance is… well, it's a train wreck. Tim's vocals are slurred, off-key, and it's unclear if he even knows most of the lyrics.
I might have rated this moment in the special higher if I hadn't seen a similar version last month at their live show here in San Francisco. It's a solid laugh, but like any joke it's better the first time.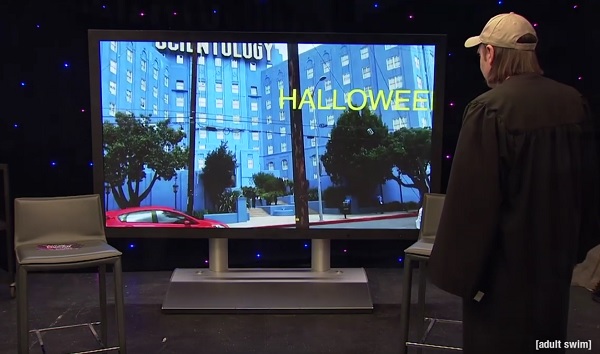 5. Gregg's unmentioned reference to Scientology
In a segment called "Where The Stars Were Born," Gregg shows us the birthplaces of various Hollywood actors using shaky footage he presumably shot on his phone.
Gregg casually displays recent footage of the former hospital where Jamie Lee Curtis was born without commenting on the fact that it's now the Hollywood Scientology building. These days the building serves a rather different purpose for certain Hollywood celebrities, including Tim's favorite actor Tom Cruise.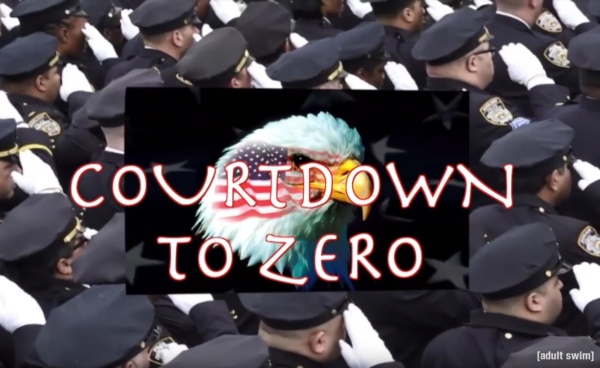 4. Tim's entrance and latest conspiracy theory
During a pre-taped interview with Steve Carell, Tim is heard in the background forcing his way onto the set of the special. He barges on set with pepper spray and a gun-toting security guard/actor named Mike. Somehow Tim wins back Gregg's trust despite having blocked all the doors and exits, accidentally hit everyone with pepper spray, and forbidden phone calls (especially to 911.) The official host Rafael retreats to his dressing room after being assaulted by Tim and won't come out.
Tim demands they run a Q-Anon style conspiracy theory video he put together regarding the allegedly impending arrest of elite Hollywood liberals — at 7:10 PM, specifically — during the Academy Awards. Gregg immediately rejects this conspiracy. When Tim's prediction doesn't come to pass he blames his security guard for giving him bad information.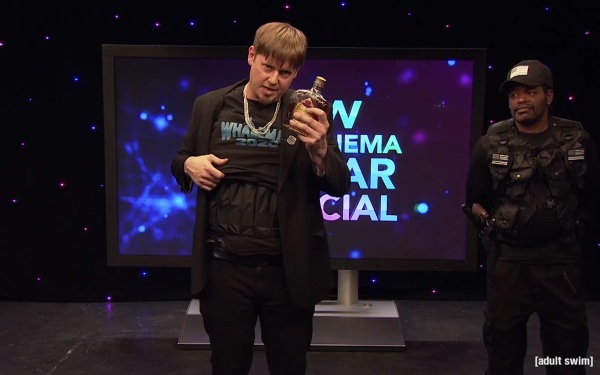 3. Tim's latest quack medicine… or is it?
Lifting his shirt to reveal a suspicious vest, Gregg is initially concerned Tim is wearing a suicide bomb. But it turns out the vest is only loaded with magnets — for health reasons. Tim claims he bought the vest at Magnets.com, and the powerful magnets have finally cured his diarrhea.
At first this seems relatively benign compared to Tim's many other questionable health choices. But after Tim takes a tour of Gregg's archive of VHS tapes while wearing the vest, a new problem develops. More on that in a moment.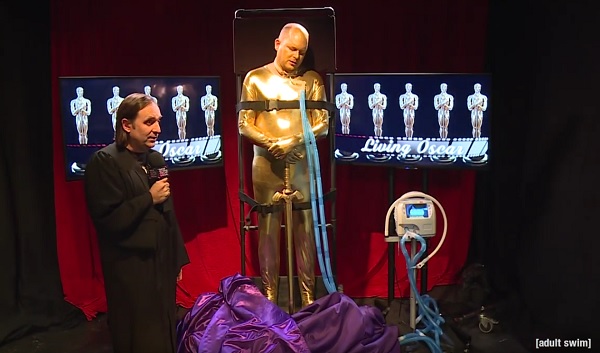 2. The Living Oscar
Celebrity impersonator Mark Proksch nearly died during an on-set accident in last year's Oscar Special; since then he's been in a coma under Gregg's care. For a new series of "Live Oscar" segments Gregg dressed Mark's limp body in a tight-fitting gold suit and propped him upright. Gregg asks the Living Oscar statue questions, answering them with sound clips from Mark's past performances.
In the final Living Oscar segment Gregg activates a turntable under the stand. When Mark becomes tangled up in the tube for his breathing device, Tim rushes over to help, accidentally knocking Mark onto the floor. The fall causes Mark to snap out of his coma. Tim's hardly a hero though as he still refuses to let anyone call 911.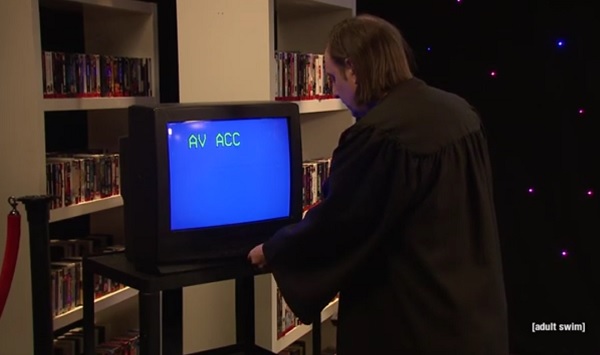 1. The grand finale
Gregg's intended final segment is a "live sequel" to the movie Kramer vs. Kramer. Unfortunately Gregg loses focus on the segment because his tape of the original Kramer vs. Kramer won't play. After Joe Estevez points out Tim's magnets might be the problem, Gregg fumbles and curses while trying to find if any tapes in his collection are still playable.
The episode wraps up with a distraught Gregg going through his tapes while Tim's band mates from Dekkar arrive with more liquor. Dekkar performs two songs including the aforementioned Queen cover. Suddenly the police show up — almost as Tim predicted would happen at the real Academy Awards. Tim drunkenly escapes the premises before the police can catch up to him. The police have questions about "gold man" Mark, who's still wearing the gold Oscar suit and has blood on his face. As the episode ends Gregg is clearly talking to one police officer about Tim's crimes against his prized VHS collection.

Honorable mentions
There were a few pretty crazy, but not completely outrageous moments that didn't make my top six cut. In no particular order:
Gregg interviews frequent On Cinema guest Joe Estevez. Meanwhile Tim gets drunk on spiked Mountain Dew and makes loud, obnoxious comments the entire time.
Tim eats raw noodles from a Cup Noodles with a crazed look on his face, at one point squeezing the cup so hard it explodes sending dry noodles everywhere.
Gregg's obsession with the Lord of the Rings and The Hobbit movies continue as he hires Hobbit-themed band "Thains Of The Shire" to play despite his own personal distaste in On Cinema's music features. When Dekkar shows up they borrow Thains Of The Shire's instruments and equipment without asking.
The "Whaleman 2020" shirt Tim wears as a reference not only to his cameo role in Ant Man And The Wasp, but also is a subtle dig at Gregg who had a cameo in the first Ant Man movie.