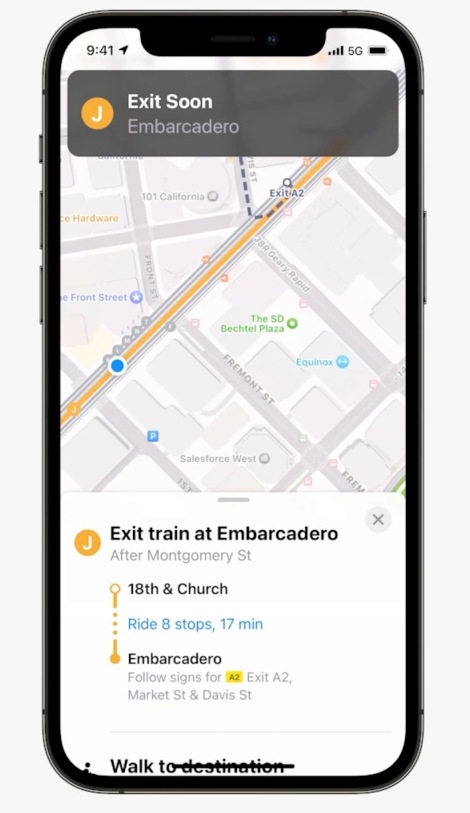 When the initial release of Apple Maps was so botched it led to widespread mockery (and a hilarious video from The Onion) Apple opted to play the long game, slowly improving the Maps app with better data and numerous new features.
Today at Apple's virtual 2021 Worldwide Developer's Conference (WWDC) they announced among many other things improved public transit directions in Apple Maps. Seems pretty nice, right?
But there was just one tiny problem — one of their example slides shows directions using the J-Church line of Muni Metro and getting off at Embarcadero — a route that has been terminating at Church & Market since August of last year.
There are three possibilities here, and I'm going to enumerate them from least likely to most likely:
This screenshot is a year old or so, and Apple has been working on this feature since then but the UI hasn't changed much so they went ahead and used it. Apple working on a new feature and not changing the UI for so long doesn't pass the sniff test for me.
Apple Maps is just so bad that it's somehow displaying route information that's wildly out of date. Of course this is possible, and it does happen with even the best mapping apps out there. But I checked just now and when getting transit directions from the Ferry Building to an address on Church Street, sure enough it knew that I'd have to transfer to the J-Church at Church & Market.
This isn't a screenshot at all: it's just a mockup. This would also explain why someone would have 5G service (see "screenshot" above) in the Market Street tunnel, something that's not scheduled to be completed until 2022. In a way this is also the most worrying possibility because if this is just a mockup, what else are they promising us at these events that may never see the light of day? Aside from that AirPower charger, of course. Perhaps Apple should go back to doing live demos in their presentations, even if those sometimes caused Steve Jobs to get pissed off at the audience for ruining them.