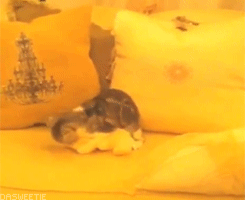 Consider this for a moment: What do people enjoy reading these days?
If the internet has taught us anything, it's that everyone wants listicles with animated GIFs. This is why Buzzfeed has an Alexa ranking of 221 whereas, let's say The Atlantic, is ranked far lower at 1,868.
So why does our government keep producing longreads? Just look at the Obamacare bill; according to Wikipedia it's 906 pages. And that's nothing compared to all 73,954 pages of federal income tax laws. Who has time for that? We all have to pay taxes and take care of our health, but you'd need superpowers to plow through all those documents on your own.
It wasn't always this way. In fact, a few of our first national laws were in listicle format. But somewhere along the way we got off track.
Next time you see your government representative tell them you've had enough of their lengthy manifestos. From now on you want simple laws you can read, preferably with lists and animated GIFs of cats falling off chairs.
Because that's what everyone wants these days; after all it was enough to bait you into reading this post.