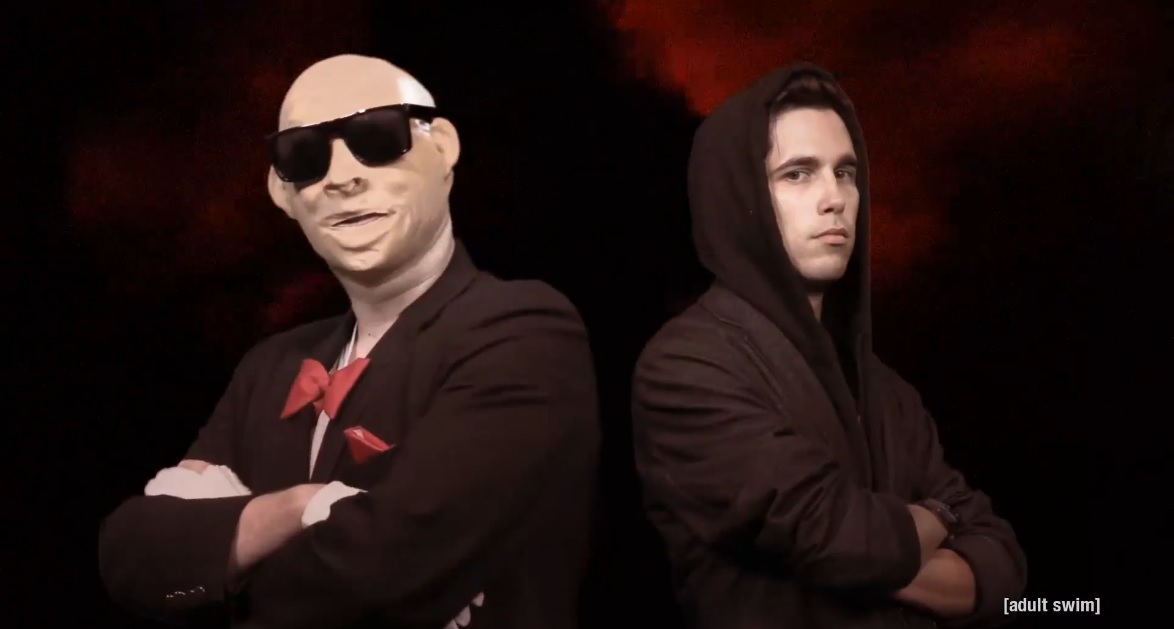 Dril and Derek in a screencap from the trailer
There's no easy way to explain the new Adult Swim show Truthpoint: Darkweb Rising. It's a conspiracy theory fueled debate show, allegedly originating from the dark web. I might describe it as though aliens on the other side of the galaxy picked up Crossfire and InfoWars and somehow tried to produce new content for human viewers.

Before the show, a government warning appears telling us what we're about to see is unfit for public consumption because it's "too real." The primary host is Dril, an anonymous Twitter user who has spent the last decade posting weird yet somehow hilarious messages like these:

To maintain his anonymity on television, Dril wears sunglasses over a cheap rubber mask that makes him look like a cross between Max Headroom and a burn victim.

Derek, a loud skinny white guy with a thick head of brown hair is the co-host. We're told Derek's list of accomplishments include inventing a new mental disorder as well as getting fired from running the Wendy's Twitter account when he used it to promote Burger King.

The two sit at desks in front of a screen displaying images of a spinning globe, a city in flames, and occasionally a photo of Larry King. A CNN-like headline ticker at the bottom of the screen scrolls various headlines including "Spinning Around Really Fast Could be the Hot New 'Cheap and Legal High,' Warns Pastor."

The hosts are occasionally joined by Truthbot, an allegedly AI character who speaks through a voice synthesizer that sounds like it would be at home in a 1970's Kraftwerk single.
Episode one
The first episode "Money" jumps into a segment called "The Throw Down." They play a clip about getting money through positive affirmations, along the lines of countless generic self-help materials.

This leads into a debate segment called "Bullet Points" which features gun-related images. Dril kicks things off, emphasizing that "money will make you rich," and recommends selling out to someone like George W. Bush or Jeffrey Epstein.

After Drill hands Derek a pen and demands Derek sell it back to him — one of those cheap disposable Bic pens — they get into an ongoing debate about who owns the pen. Dril hands Derek three dollars and begs for it back, but Derek only returns the cap.

In contrast to Dril, Derek recommends throwing your money away because it's from the government — which he doesn't trust — and mining cryptocurrency instead. But he supports Dril's message about selling out.

In a segment called "Arena of Expertise" they bring on Dr. Branson, a "Professor of General Studies" via satellite. Branson conducts a thought experiment to prove money isn't even real.

Dril and Derek decide this expert is a moron and "flush" him away with a toilet flushing sound so they can take some phone callers, none of whom have anything interesting to say. The callers are all flushed away as well.

Towards the end of the episode the two hosts don party hats while displaying completely incoherent "internet memes" in a segment allegedly sponsored by Monsanto. They try to pick the one that best fits Monsanto's brand image.

The episode ends with "Zero Hour" where each host makes a closing statement. Dril's "Final Thoughts" segment reveals a new self-help affirmation condemning Derek. Derek uses "The Last Word" to show off his new pen and the three dollars Dril gave him.
Critical reception
Early critics of Truthpoint, who aired their grievances before the show's premier, seemed mostly annoyed that Dril would do a show at all — presumably because it shattered the illusion that he's the person seen in his Twitter avatar, an old blurry photo of Jack Nicholson. (Note to people of the future: if that previous sentence sounded strange, and I hope it does, go look at the real news from this year.)

After the episode actually aired a few reviewers who watched it praised the show for taking the mock-news comedy format in a new direction. It's certainly true that nobody will mistake Truthpoint for SNL's Weekend Update, The Daily Show, or Last Week Tonight.

My thoughts so far
Personally I'm on the fence. On the one hand, satirizing the typical debate shows these days that are just hosts yelling hot takes at one another with a show where the hosts are yelling literal nonsense is a clever subversion. There's potential, the first episode definitely has some laugh out loud moments.

But on the other, the hour long format, filmed live, and with Adult Swim's low budget it didn't quite come together — at least not in this first episode.

Over the years my favorite live action Adult Swim series have been Tim & Eric Awesome Show Great Job!, Check It Out! with Dr. Steve Brule, The Eric Andre Show, and On Cinema At The Cinema. All four of those mock low budget content while simultaneously being filmed on a shoestring budget themselves. Just as importantly, they do so in 15 minute increments.

My only criticisms of Truthpoint so far is it's kind of long, and the live element doesn't add much. I realize Adult Swim has 24 hours a day to fill on their web stream but this particular show would greatly benefit from tight editing to keep the humor moving along at a steady pace.

Regardless I do hope the argument about ownership of the pen is resolved by the end of the season. We're through the looking glass here people, and we need answers.