The highly esteemed [citation needed] online publication Quarantine Dreams chronicles unusual dreams submitted by those of us under shelter in place orders.
One of my submissions is included in their recently published their seventh issue. They aptly titled it "Sore Loser."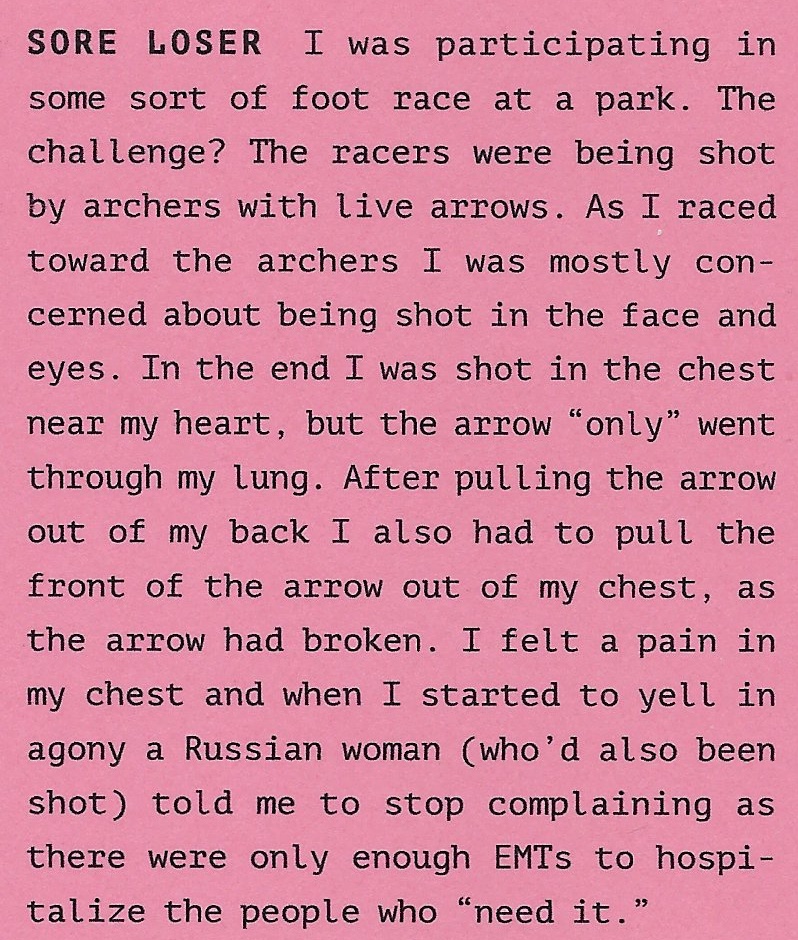 The text reads:
I was participating in some sort of foot race at a park. The challenge? The racers were being shot by archers with live arrows. As I raced toward the archers I was mostly concerned about being shot in the face and eyes. In the end I was shot in the chest near my heart, but the arrow "only" went through my lung. After pulling the arrow out of my back I also had to pull the front of the arrow out of my chest, as the arrow had broken. I felt a pain in my chest and when I started to yell in agony a Russian woman (who'd also been shot) told me to stop complaining as there were only enough EMTs to hospitalize the people who "need it."
Now I'm not one to read too much into dreams, but like many of the dreams published in Quarantine Dreams there's a recognizable anxiety mixed with crazy dream logic.
Do you want to remember your dreams? Try keeping a dream journal. Just write them down somewhere when you remember them, whether it be a physical notepad, your phone, laptop, etc.. The more you go through the exercise of writing them down, the more you tend to recall them later.
If you're interested in submitting your own Quarantine Dream to this publication, follow the instructions on their Twitter profile.