Mike Judge's new show "Silicon Valley" satirizes Bay Area tech culture. From Peter Thiel paying kids not to attend college to unconventional social norms to strange business practices, the show has some pretty easy targets to mock.
One of my favorite aspects of the show is the unusual architecture it highlights on the Peninsula. From the Google-inspired "Hooli" campus to the incubator housed in an Eichler, the Bay Area's architecture has the same experimental quality as everything else here.
Not all experiments are successful. One particularly notable example of bad Peninsula architecture is highlighted in this scene: (click for larger version)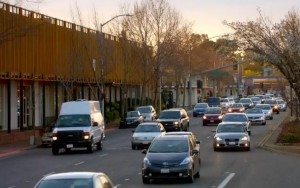 It's an unusually ugly building on an unusually ugly stretch of El Camino in Palo Alto. Here's what it looks like on Google Maps: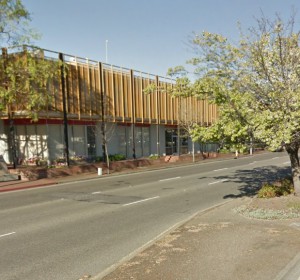 According to LoopNet this building was constructed in 1961. One can only imagine that drugs were a factor in the decision to attach those garish metal panels to the upper floor of what would otherwise be a tolerably bland building.
But it may not have long for this world — plans are afoot to replace it with a larger office building (PDF warning.)