The express checkout at the Stonestown Trader Joe's features a painting of a Muni Metro train. After noticing the painting, it immediately raised two questions in my mind:
Why would an artist choose Muni to represent speed?
Where would this "TJ" route go?
While I won't attempt to answer the first question, I'd like to speculate on the second. The TJ Metro line has to connect all five Trader Joe's locations in the city. That's no easy task.
My panel of subway experts concluded that the TJ route will consist of the following: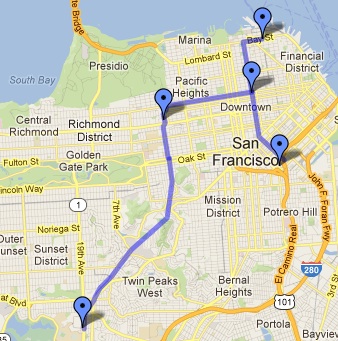 Outbound stop is Stonestown. Trains head inbound along existing M line through West Portal and Forest Hill. A switch in the Twin Peaks tunnel takes TJ trains to a new side tunnel heading north under Masonic to an underground station at Geary.


Inbound trains continue north, turning east to a new California Street subway tunnel. All trains stop at a station under Hyde and California. From here there are two inbound routes. TJ-N trains head north under Hyde street to a terminal at Bay Street. TJ-S trains head south under Hyde to a connection at Civic Center, continuing under 8th St. to a terminal at Bryant.
Sounds good, does it not? I'm getting hungry for cheap wine and frozen pizza just thinking about this. Better get digging, Trader Joe. I have a shovel and a ladder you can borrow.