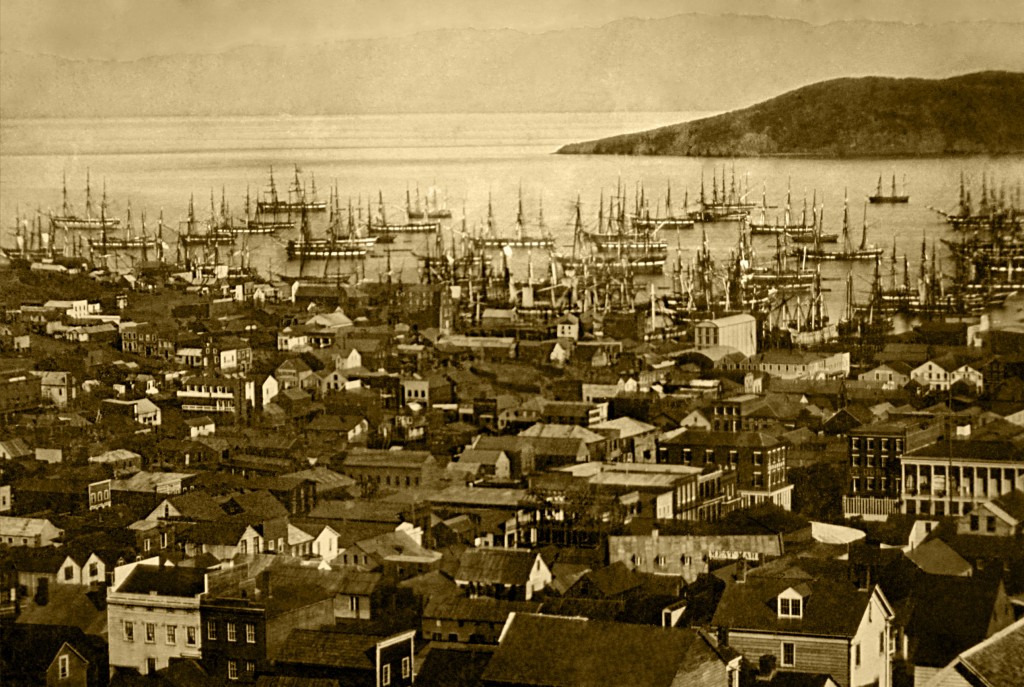 Yesterday afternoon I took a San Francisco City Guides tour I'd never heard of before titled 1850's San Francisco: Paris of the Pacific. This relatively new tour meets at the same place as the Gold Rush City tour, and compliments it in an unexpected way. Like all City Guides tours it's 100% free and led by volunteer guides.
Whereas the Gold Rush City tour largely focuses on the crowd of Americans coming west in search of gold, the Paris of the Pacific tour highlights a parallel story. When a French spy in Monterey got wind of the discovery of gold in California he tipped off folks in his home country.
Why was there a French spy in Monterey? Turns out New Spain/Mexico's weak grip on California was an open secret, and France had an interest in colonizing the territory. While French troops never invaded, French citizens invaded with the most American pastime of them all: business.
Thanks to the tenuous political situation in France at the time with Napoleon III as well as food shortages all over Europe, a number of wealthy French aristocrats and savvy business types chartered a ship and sailed to San Francisco. Unlike their peers from the US, the French immigrants to California weren't interested in seeking out gold directly. Instead they operated businesses catering to gold seekers including bars, casinos, and brothels.
If you'd arrived via ship in San Francisco in the 1850's you probably would have disembarked at or near the Commercial Street pier, which led directly to San Francisco's French Quarter, meeting French-speaking people and their businesses in the area.
While little remains of the French Quarter, the direct French influence in San Francisco continues to this day. Isidore Boudin started his Boudin Bakery during the Gold Rush. The Notre Dame Des Victoires church near Chinatown began shortly after the Gold Rush as well.
But the influence of those early French settlers in San Francisco goes deeper. Importers bought in goods from France including clothing and alcohol, and the first restaurants in the area were operated by French chefs. To this day if you want to dine out lavishly in San Francisco there's a good chance you'll visit a French restaurant, if not a French-inspired one.
Department stores selling imported French goods lasted from the mid 19th century up until the mid to late 20th century in San Francisco. Some relics of these stores still exist if you know where to look. And where would those be? You'll have to take the tour yourself to find out.