If you live in San Francisco you're undoubtedly familiar with Bernal Heights Park, even if you don't know it by name — it's the big rocky hill at the south end of the Mission District. From a distance, it looks like a bonsai arrangement due to a few short trees growing at the top.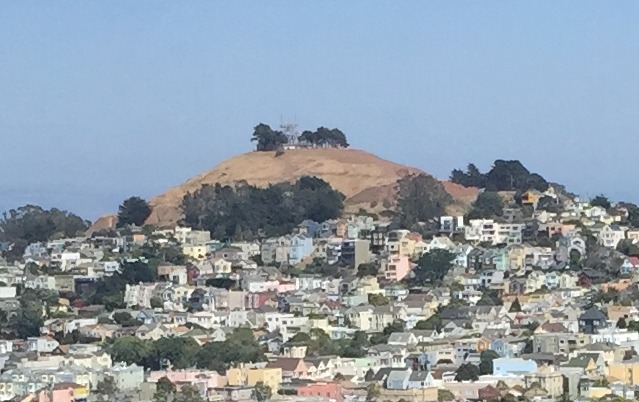 Somehow I'd never actually hiked to the top of it before, a strange lapse on my part especially because I've spent many afternoons in Precita Park, which is just below Bernal Heights. Not having anything else to do on Saturday and given the reasonable weather, I thought I'd go exploring.
There's a variety of ways to get to Bernal Heights Park. I took one of the most obvious routes: starting on Folsom Street, I walked all the way to the southern end of the street. The sidewalk ends on the right side, but continues on the left. If you turn around at this point you'll see a home with an interesting mural.
Not far up the road there's a somewhat infamous rock that tends to get painted over by local pranksters. Not long ago it was painted to look like the poo emoji. More recently it was painted a bright cyan color, and someone added a troll-ish looking face.
Crossing the street here leads to an entrance to the park. There's a gated paved road winding around the hill that's presumably intended for utility workers, but for parkgoers it's a place to walk, bike, or play fetch with your dog.
From this particular entrance you'll spot a colorful memorial honoring the life of Alex Nieto, a young man who's life was tragically ended by police brutality. Though his death was over two years ago, the memorial is still immaculately maintained.
Continue walking around as the road turns and you'll eventually encounter a stone labyrinth. Right now it could use some love, but you can still see the rough outline of the maze.
From there you can get a clear view of the top of the park, where there's the trees and a mysterious wireless hub of some sort. I headed up to check out the wireless thing. I'm not entirely sure what it is, but the building at the bottom is covered in murals, and there's one of those air raid sirens next to it that's tested at noon every Tuesday.
THIS IS A TEST. THIS IS A TEST OF THE OUTDOOR WARNING SYSTEM. THIS IS ONLY A TEST.
 
<a "="" href="https://www.flickr.com/photos/mrericsir/29939790322/in/dateposted-public/" title="Strange device on Bernal Heights">
 
Jutting out just below the top of the park is a flat-ish rocky area where some children were running around, dogs were being walked, and some dude was flying a kite.
I walked out to the edge of this area and snapped a giant panoramic photo. Click the image for the full view and you can see the "bonsai" trees on the left. Moving right you can see Sutro Tower, the top of the Golden Gate Bridge, the office towers downtown, and the two spans of the Bay Bridge near the left.
As for getting back down, there's really only one way to go. Why? One word: slides! If you head to the northwest side of the park, there's an unmarked staircase heading down to Esmeralda Ave. Head down that staircase, walk one block in the same direction, and you're at the slide park. Grab a piece of cardboard and let gravity do its thing.
After that, keep heading in the same direction and you'll get to one of the city's smallest parks, Coleridge Mini Park. This tiny "park" is really nothing to write home about, but there's a nice view of Sutro Tower from there and a micro-sized playground for little kids.
To get to Mission Street, keep heading down the hill and you'll wind up near the intersection of Mission and Valencia.
Want to see all the photos I took on this excursion? Take a peek at this Flickr album.