Recently there's been talk of building a second rail tube under the San Francisco Bay. This new tube would be larger than the existing transbay tube and serve two major purposes:
BART could offer limited 24 hour service while still having a maintenance window if one of the tubes had to be closed
Future expansion possibilities for CalTrain, high speed rail, and perhaps even Amtrak
If we put aside the question of when to build this second crossing the next question is where? There's no pressing reason to build a second tube next to the existing BART tube between Embarcadero Station and West Oakland.
BART has previously expressed concern about a tube to Treasure Island due to soil stability issues so I won't include that as an option (even though I personally like the idea.)
Here are the fantasy transbay tube plans I've come up with. All maps images are courtesy of Google.

Alameda connections
The distance between San Francisco and Alameda (the island, not the county) is short enough that a tube could be practical. Today Alameda isn't well served by transit so this route may help bring visitors to Alameda's breweries and boat adventures.
On the Oakland side BART could connect to the existing Lake Merritt Station, ideally stopping along the way at a new Jack London Square Station. There's also an obvious place to connect to Amtrak as well.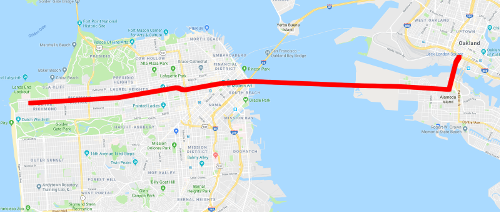 Geary Street
Let's start with the obvious: BART intended to build a subway under Geary Street since day one, but somehow never got around to it. It's easy to see the appeal: Geary is close to the Legion of Honor, Japantown, the Presidio, and could potentially go all the way out to the beach and the Cliff House. It's also a major shopping district with restaurants, bakeries, bookstores, etc.
On the eastern side this subway could connect to the existing Market Street BART subway before meeting at the Transbay Transit Center and exiting San Francisco through a tube to Alameda.
The biggest problem with BART adding a Geary Street subway at this point is how it would get there: Muni Metro's's upcoming Union Square station is quite deep, probably too deep to tunnel under. Digging under the Financial District seems equally troublesome. If only San Francisco had some kind of "subway master plan"…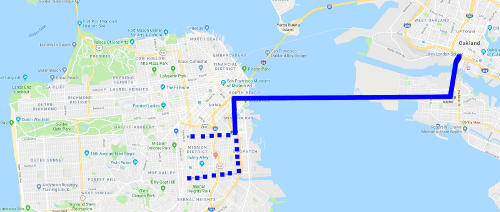 Mission Bay
Connecting somewhere near Mission Bay, BART could build a new line to major event spaces like AT&T/Oracle Park, the new Warriors stadium, etc. It comes close enough to the CalTrain line to provide an opportunity for future expansion, and would serve as a connection to Muni's upcoming Central Subway line near the south portal.
On the San Francisco side BART would have a few places to connect to its existing subway, though all of them would be expensive. The longest route would be to tunnel all the way to Cesar Chavez, the shortest would be to go under 16th Street.
The pros of this plan seem pretty clear: connecting BART to one of San Francisco's biggest new neighborhoods is a no brainer. The cons? There's no direct connection to BART's busy Market St. tunnel or the Transbay Transit Center.

North Bay connections
It's unclear BART will ever go to the North Bay, but this was part of the original plan and I have a few ideas. Just getting BART to connect with the new SMART trains in the North Bay would be a major achievement and is worth considering for that reason alone.
For better or worse these plans involve skipping the East Bay entirely and focus on the North Bay via San Francisco. Connections from the North Bay directly to the East Bay are out of scope for now, negating the ability for BART to operate 24 hours — but it's still worth thinking about. These are fantasy plans after all.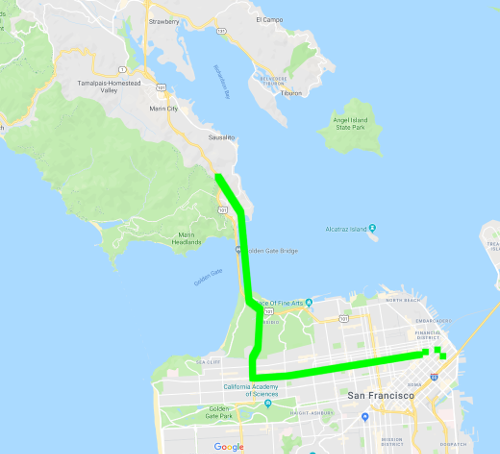 Golden Gate Tube
Okay, let's return to the Geary Street subway. Originally BART planned for the Geary line to go over the Golden Gate Bridge on the lower deck. Unfortunately this wouldn't be feasible today without major changes to the bridge. Building a second Golden Gate Bridge presumably wouldn't be very popular, so why not go underground?
The subway tunnel would head west under Geary, take a sharp turn somewhere near the Presidio, then go underneath the Golden Gate before connecting somewhere on the North Bay side. Clearly there'd be a BART stop in the Presidio, if not two.
How this would connect to the Transbay Transit Center is a whole other can of worms but it does provide a potential shared crossing, assuming some minor hand-waving about the details of the Transbay Transit Center connection.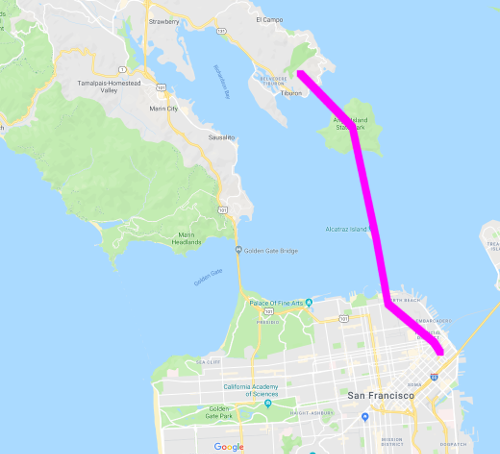 Island tubes to Tiburon
I've saved my favorite for last, a costly plan best described as "a series of tubes." Specifically three of them.
What if BART built a subway tunnel from Market Street to Columbus Avenue in North Beach to a tube system connecting via islands to the North Bay? This would hit many key areas including the Financial District, North Beach, and Fisherman's Wharf. Tubes would be built to connect Alcatraz, Angel Island, and Tiburon.
Connecting this huge tunnel system to the Transbay Transit Center could be reasonable depending on the route configuration. While some North Bay locals would benefit from this plan, it could also be a huge benefit for tourism. Imagine coming to San Francisco on vacation and taking a train to not only Alcatraz but also into wine country. Obviously the ferry companies would strongly disagree with me here.

Those are my proposals. Will any of these ideas ever come to fruition? If so hopefully I'll be remembered as a modern day Emperor Norton.