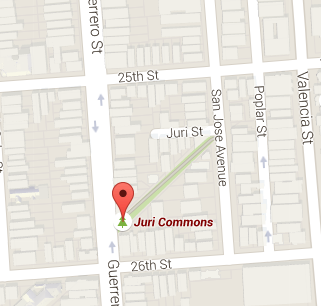 Not far from Papalote is a funny little park you could be forgiven for not noticing even if you stroll by it regularly. The park is called Juri Commons and was once a section of railroad before the 1906 earthquake. In the 70's the skinny quadrilateral lot was converted into a park with a small playground.
Unfortunately little maintenance has been done since then, although a group of volunteers does their best to tidy up the place. That said, the playground is in particularly rough shape and I decided not to photograph the mural behind the swings because I didn't want to step on the broken glass of a beer bottle some asshole had smashed there.
Aside from its shape and size the most unique feature of the park is the Sol Flor sculptures embedded in the ground. They were built by artist Jen Alexander in a medium similar to LA's Watt's Towers — re-purposed garbage — though these are obviously much smaller in scale.
More details about Juri Commons can be found at SF Parks Alliance.