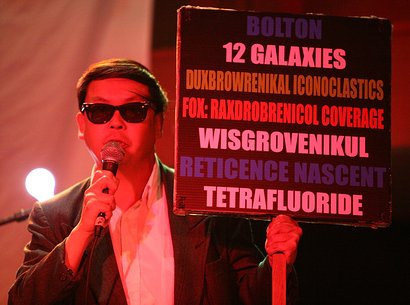 Tonight's episode of Doctor Who features a race, of sorts. Minor spoilers follow for the second episode of the new Jodie Whittaker-era Doctor Who.
Last week's episode ended with the Doctor and her three companions in a cliffhanger (space hanger?) situation. This week they're all rescued by the two remaining participants in "the last ever rally of the 12 Galaxies."
If you're a Bay Area local and the name "12 galaxies" rings a bell, it's for one of two reasons. You're either thinking of local eccentric Frank Chu (pictured above) who coined the phrase "12 galaxies" on his protest signs, or the short-lived Mission District bar and music venue named in Mr. Chu's honor.
Although the number of galaxies mentioned on Mr. Chu's iconic sign would grow over the years, he's widely known in the for the 12 galaxies era due to local media attention at the time.
Coincidence? Probably. But it's enough to make a person ask if Mr. Chu knows anything about Time Lords from the planet Gallifrey.