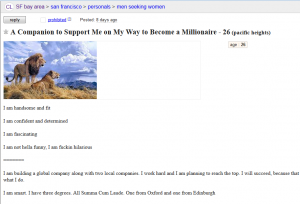 Over the weekend, several folks on Twitter pointed out an over-the-top, only in San Francisco dating ad on Craigslist. A young man has decided that he's going to become a millionaire, and wants a woman to support him in this endeavor.
The original post is here. But since Craigslist posts expire, I've copied and pasted the entire ad:
Posted: 8 days ago
A Companion to Support Me on My Way to Become a Millionaire – 26 (pacific heights)

age : 26

I am handsome and fit

I am confident and determined

I am fascinating

I am not hella funny, I am fuckin hilarious

=======

I am building a global company along with two local companies. I work hard and I am planning to reach the top. I will succeed, because that is what I do.

I am smart. I have three degrees. All Summa Cum Laude. One from Oxford and one from Edinburgh

I am wordly. I lived in several countries

I am a lion. I go to battle. I am not a spectator. I am on stage because I dare greatly.

I take responsibility for myself and have a hunger to accomplish my dreams Wanting something is not enough. You must hunger for it. Your motivation must be absolutely compelling in order to overcome the obstacles that will invariably come your way.


You:

I am shooting for the moon and I want a companion to support me on way there

I will break the relationship after our first fight. There are thousands of woman who want to take your place and live their dreams. We don't fight. we will love each other, laugh, have fun, and go on adventures. Fights and drama are for less evolved miserable married couples. Drama and pressure come from outside life and we will help each other overcome it, but it will not come from the relationship It's me and you against the world. And we will fuck the world because we are menacing lions.

I am your lottery ticket in this life. Support me, love me, and do everything I want, and you will have the world and everything it.


Things to understand:

Life has no limitations, except the ones you make.

You must take action now that will move you towards your goals. Develop a sense of urgency in your life. I know what I want. If you are what I want. I will marry and have you move in with me the next day.

You need to have goals and ambitions. You will not just sit around in the house.

I have money, and I will spoil you from time to time, but you will not be a trophy wife that goes shopping everyday. A lot of money will go to my company not your dresses. But you will feel comfortable and you will not pay any more bills for the rest of your life. Once we reach the top, then you will get spoiled.

Just because Fate doesn't deal you the right cards, it doesn't mean you should give up. It just means you have to play the cards you get to their maximum potential. I am a full flush, take advantage of that.

Your ability to communicate is an important tool in your pursuit of your goals, whether it is with your family, your co-workers or your clients and customers. You need to have effective communication skills. This means that if we have a disagreement, it will be resolved very easily, will will not argue forever. In short, do you see the typical girls that fight with their boyfriends for hours. That is the enemy. Do you see the rare couples that have dreams, ambitions, and a clear destiny that makes it almost impossible to fight over dumb things like average couple who fight over dumb things because they have nothing else to do. Think of Frank Underwood and Clair from House of Cards, or even Jay Z and Beyonce. That is what I want. I am emphasizing this, because drama is my ultimate turn off.



If you are not that experienced and do not have a lot of knowledge, I do not mind to make you my protege as long as you work hard, read the books I give you, and do the things I tell you.

The only way of discovering the limits of the possible is to venture a little way past them into the impossible.

Without ambition one starts nothing. Without work one finishes nothing. The prize will not be sent to you. You have to win it.

Circumstances are the rulers of the weak; they are but the instruments of the wise

Change the way you look at things and the things you look at change. Perception is reality. you can create a perfect reality by creating the perfect perception

When in a relationship, a real man doesn't make his woman jealous of others, he makes others jealous of his woman, and vice versa.

We all make mistakes, have struggles, and even regret things in our past. But you are not your mistakes, you are not your struggles, and you are here NOW with the power to shape your day and your future

Listen to the impossible dream


Send a message with a face picture, and put "DREAM" in the subject line

do NOT contact me with unsolicited services or offers
Yikes. But this raises a question: is it a genuine attempt at finding a lady, or a parody? There's no way to tell — in extreme cases like this, sarcasm is imperceptible due to Poe's Law. Still, who doesn't remember the "I'm on top of the world!" feeling of being 26 years old and snorting your first line of coke?
Clearly this needed to be escalated either way. So I decided to respond the only way I really know how: with a couple shots of tequila and maximum troll mode engaged.

Subject: DREAM


Hey Lion,
 
You asked for a photo. This is me here in the center:


Please understand that while my inner body is male, my furry persona, Tigera, is a female (with fully functioning parts if you must know.) Like you, I have a powerful ambition to accomplish my dreams no matter what obstacle comes my way.
 
For example the zipper on my fursuit got stuck several years ago, but I've learned to overcome these circumstances in spite of the smell that comes with not having bathed in quite some time. No matter! Folks like you and me shoot for the moon, but we end up on Mars instead. Who has time for the moon? Neil Armstrong is a poser.
 
Maybe I'm not exactly what you had in mind, but like you said: perception IS reality. Value creating winners like us don't let the rules dictate our lives because we're the ones dictating the rules. Other people's rules say you should go to a university and get good grades. To hell with that! I made my own rules: I went to every university in the world at the same time, took every single course, and graduated at the top of my class. All before lunch.
 
Do you think I answered my professors' questions in class? Nope, circumstances only rule the weak. Instead the professors had questions for me, like "Why are you in that fursuit?" or "Can you take that thing off?" or "What's that awful smell?" But I kept my mouth shut and powered through — that's why I have over 83,064 Ph.Ds.
 
There wasn't a filing cabinet big enough to hold all of my prestigious degrees, so I started a multinational chain of office supply stores specializing in over-sized filing cabinets, worked my little tiger butt off until it was a Fortune 500 company, then sold it to Office Max.
 
Should I ever escape my fursuit, I'm going to use my millions of dollars to buy a new one that has a built in jetpack and laser gun. I am Iron Man.
 
Anyway Mr. Lion, please drop a line if you like what you see. I have to go now to bench press an entire gym, but I'm very interested in your book recommendations.
 
All the best,
  – Tigera

Tigera has yet to hear back. I'll update this post if she gets a response.

Legal: Furry photo copyright Flickr user Darkhorse Winterwolf. Used under a Creative Commons license.