"It's been" a little over a year after the last On Cinema Oscar Special, and many changes have happened. Aside from the pandemic, On Cinema was dropped along with the entire streaming portion of Adult Swim's lineup. Thankfully this wasn't the end of On Cinema; fans (self included) chipped in financially for the next season and this Oscar Special. It streamed this year on the new HEI Network behind a paywall. Sort of…
We can't talk about this year's Oscar Special without talking about last year's, as it ended with a carbon monoxide poisoning that killed two people, including the caterer Tom Chaplin. Many blamed this on Gregg Turkington as he left his car running in the studio.
But the big thing is, On Cinema somehow manages to top itself every year. Despite the behind the scenes financial issues somehow this year did not miss a beat.
Even for those of us who've been fans for a long time the amazing thing about On Cinema is that the jokes go so deep it's like peeling back layers of a thick onion, and by the time you understand them you'll be crying — with laughter. So here we go again.
8. The dueling feeds
After Tim Heidecker announced his 8th Annual On Cinema Oscar Special guests — and the list didn't include Gregg — we quickly learned that Gregg would be hosting his own 9th Annual "Our Cinema" Oscar Special, effectively one-upping Tim. And the best news? It would be completely free!
Gregg started his feed on YouTube over an hour before Tim's "official" Oscar Special with a screening of the 1937 public domain film Affairs of Cappy Ricks. Following that, Gregg appeared on a shaky handheld camera phone camera to introduce us to a parking lot that was used in Back to the Future, and wouldn't you know it — his car, which is now a mobile film archive, is parked there and decorated like the DeLorean from the Back to the Future films. But it gets better! Gregg himself is dressed like Marty McFly from Back to the Future 3.
Now a normal comedy show would back down on this premise of having two separate feeds right when the main one kicked in, but this is On Cinema we're talking about. Even after Tim eventually backs down and invites Gregg to his Oscar Special, Gregg's feed continues even to the point where he's in the bathroom at the studio and driving away at the end.
This second feed adds an element of pure chaos. You never really know which one you should be watching, and at some points both Tim and Gregg are talking at the same time. But for the most part Gregg's feed is pointed at the ground and you hear him grumbling and making snarky remarks about Tim's show.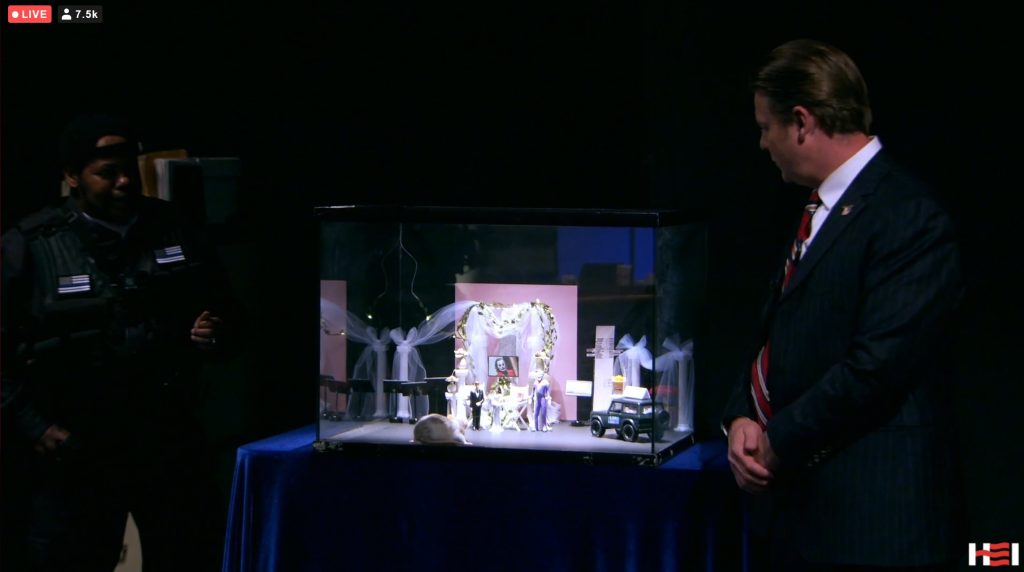 7. The rat test
Unable to let the events of last year's Oscar Special go to rest, Tim has a miniature version of the set built in a glass case with a live lab rat. He intends to pump car exhaust into the case with the help of his "investigator" LaRoux in order to prove that carbon monoxide is lethal.
Things don't quite go as planned however when the car exhaust enters the set through a hose and everyone begins coughing, apparently having learned nothing from last year. After his wife Toni protests killing a rat to prove a point, Tim relents and abandons the experiment.
Tim later claims the rat died of unrelated causes, so even if he had gone ahead with the experiment it would have rendered the results entirely inconclusive.
6. Fox News parody
Over the years Tim has taken on the personality of a particular brand of a conservative blowhard, and that's very much on point here as the entire set for this Oscar Special looks straight out of Fox News.
Tim goes all in on this, kicking things off with a parody of Greg Gutfeld's late night "comedy" show on Fox News. Despite having the appearance of The Daily Show or Last Week Tonight, all of Tim's conservative jokes fall flat and show no self awareness whatsoever. (The entire segment can be watched above.)
(On the meta side of things, Gregg used to be a regular on Gutfeld's previous show Red Eye but in character as Neil Hamburger.)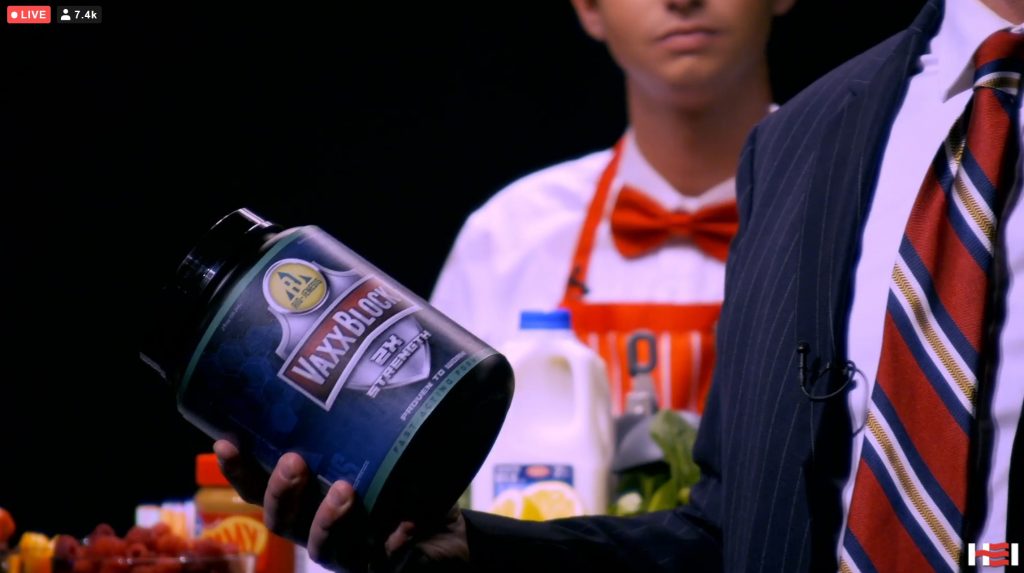 5. The repulsive catering
This year the show went in a new direction with catering, this time with a sponsorship from the shady supplement company Rio-Jenesis with their RJ's Shake Station brand.
Tim gets a shake that's made with an inexplicable combination of vegetables, some kind of potato soup, hard liquor, and a supplement from Rio Jenesis called "VaxxBlock" which is intended to prevent the COVID-19 vaccines from working.
After all, as a Trumpian conservative Tim wants the advantages of the vaccine like being able to travel abroad without the disadvantages such as whatever conspiracy theories are being touted this week.
But most importantly, he wants to get drunk.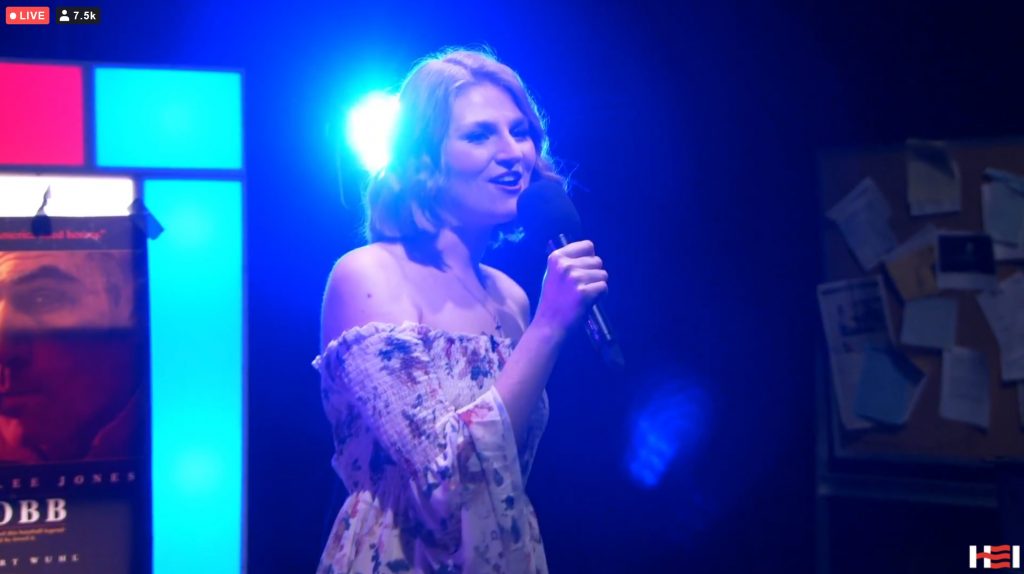 4. The singer
Wendy Kerby, a young friend of Toni's from her church is brought in as the singer for this year's Oscar Special. She's also the brother of the guy running the catering stand.
She sings a version of Tim's song "Empty Bottle," perhaps the fifth or sixth version we've heard so far, over a karaoke version of the song. It quickly becomes clear she doesn't know all the lyrics though nobody seems to even notice or care.
At the end she's trotted out again over the disastrous ending — which I'll get to a moment — to sing a rendition of "Back In the High Life Again" by Steve Winwood. (Or should it be "Back in the HEI Life Again"?)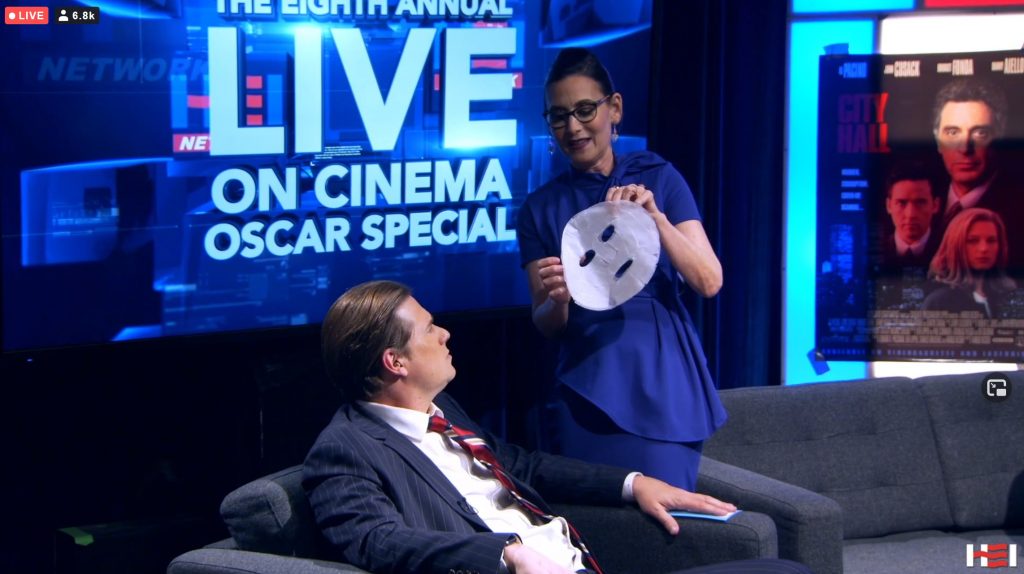 3. Toni's cosmetic face masks
Tim's horrible wife Toni Newman is just as much of a scam artist as her husband, and is now hawking a line of cosmetic face masks. To demonstrate them she applies them to both Tim and his bandmate Manuel, with Tim immediately complaining of a burning sensation and is unable to remove the mask despite pouring ice all over his face.
After a break, Tim's face has gone from spray-tan orange to bright red, and he's kicked his wife Toni off the set. Manuel hasn't suffered, though it's worth noting that part of Tim's facial skin was grafted from Manuel's lower back or "ass" in season 8 after Tim accidentally set himself on fire.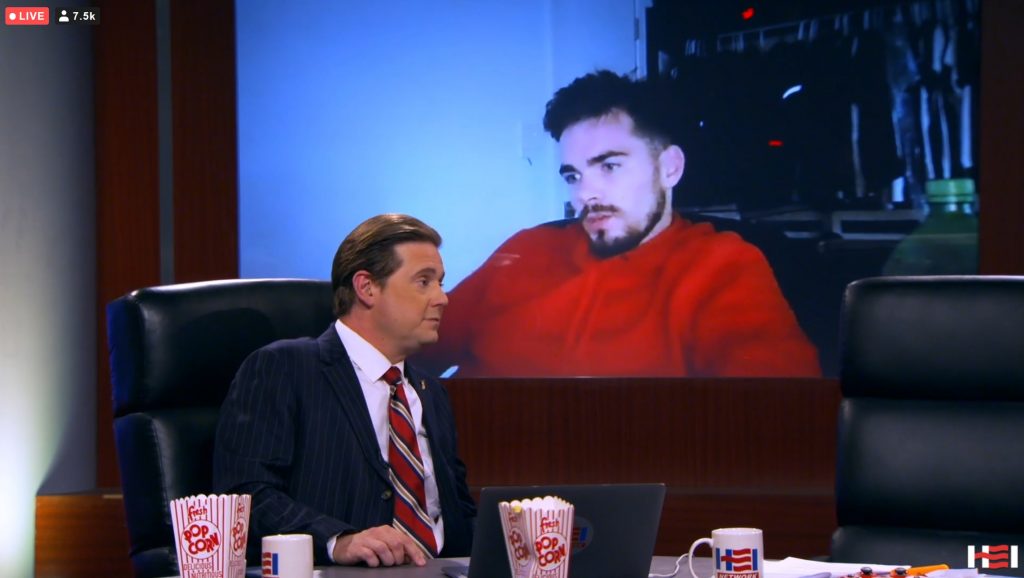 2. Tim's stepson and potential new child
Matt Newman was introduced at the last Oscar Special as Tim's stepson from his current wife Toni. Despite an awkward conversation between the two of them it was clear that Matt was into online video games and not much else.
This time Matt was back via an unstable Zoom call and seemed more focused on playing games than interacting with Tim.
Tim drunkenly told Matt — or tried to anyway — that he'll soon be having a new sibling as he just got Toni pregnant. Toni isn't particularly appreciative of Tim sharing this news as it wasn't meant to be public yet. It also doesn't bode well for the pregnancy as Toni is drinking schnapps throughout the special.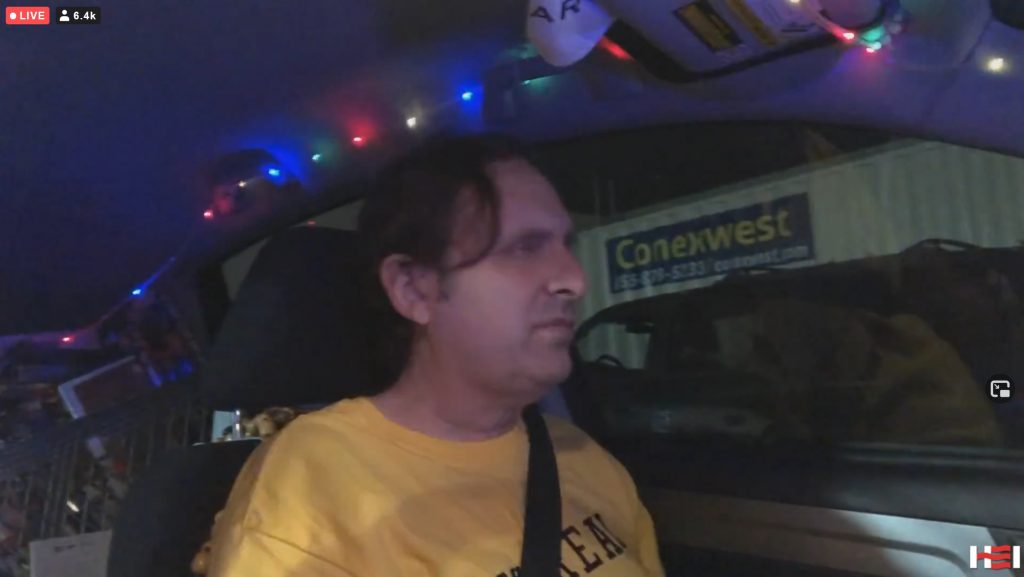 1. Gregg storming off the set and escaping LaRoux
Tim's ongoing plan to investigate the carbon monoxide poisoning of the last Oscar Special ends with LaRoux blaming everything on Gregg. This causes Gregg to storm off the set and lock himself in his car/mobile film archive.
When Gregg attempts to leave he's intercepted by LaRoux who tries to block him. It's implied (though not shown) that Gregg ran over LaRoux with his car while escaping. None of this is shown in either feed, though we soon see Gregg driving away on his feed and Wendy singing "Back in the HEI Life Again" on Tim's feed.
Over the credits, Tim claims that LaRoux was injured but will be okay, implying that yet another Oscar Special has resulted in needless injuries. Plus a dead rat.
Honorable mentions
Tim unveils a new song for his wife, "Your Love Gets Me HEI," which is just as cringe-inducing as the title would suggest.
Mark is back… sort of. A fan's home footage of Mark included Mark saying he didn't want to be involved with the "VFW", which may have been a confused reference to Gregg's VFA or perhaps something else? It raised more questions than answers, but the point is that Mark is still alive after all.
Al Pacino's birthday! This didn't go anywhere despite several segments including Manuel and Axiom impersonating Pacino. Gregg verbally shat all over Pacino for declining to participate in several of his favorite film franchises.
The Minions! Ever since Tim announced the HEI Network, he's complained off and on about Minions — the characters from the Despicable Me franchise — appearing on his website allegedly due to hackers. During this Oscar Special a Minion stuffed animal appeared in various shots, sometimes noted by Tim but often not.
Josh Trank, who directed the Fantastic Four movie (which Tim had a small part in) called in via Zoom. Gregg used this segment to reignite a debate about whether or not Tim paid a fee to appear in this movie, though it was ultimately unresolved as Trank's Zoom connection was unstable.
Despite Tim's ongoing social media claim that Axiom is his new "Mister Movies" it was clear Axiom hadn't seen any of the movies nominated for this year's Oscars. The usually spineless Joe Estevez convinced Tim to bring Gregg back to the show to provide movie expertise. And wouldn't you know it, underneath his Back to the Future 3 costume Gregg was wearing a yellow t-shirt with a custom screen print that says "The REAL Mister Movies."